SEVERO 3000 & 5000H Series, Big Game Spinning Fishing Reel
There are fish you'd never dare to challenge with spinning gear until now. This is the only spinning reel equipped with OMOTO new tech SEVERO reel, which applies spool tension evenly for superior drag performance; a unique Pre-Set knob combines with multi-disc metal / carbon drag washers which allows incredibly precise drag settings. Inside are stainless steel gears, spool shaft, and 14+1 stainless steel bearings ensure efficient transfer of energy. Power handle and knob for extra leverage.
The Severo 3000 is constructed from whole-piece 6061-T6 machined aluminium and uses a corrosion-resistant coating process.
Its features include:
- Multi-disc carbon fibre drag component giving max drag power of 20kg-plus
- Precision-machined stainless steel spiral bevel gear design
- 14+1 stainless steel ball bearings
- Gear ratio 5.0:1 for 3000 model, 4.1:1 and 6.1:1 for 5000 model
- Lock nut & Spool Design
- Silver / Blue
- Proudly made in Taiwan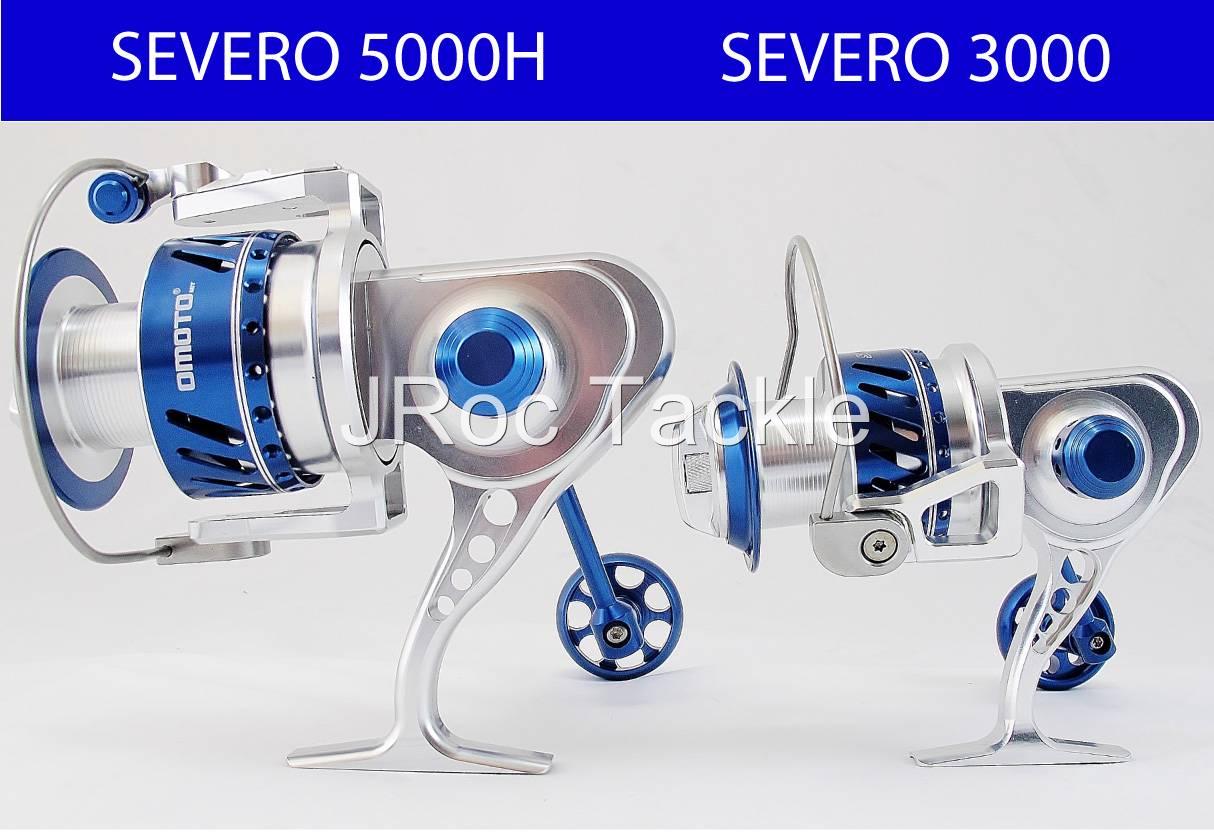 5 year OMOTO AUSTRALIA WARRANTY (JRoc Tackle Authorised Sole Australian Distributor)
Attractive, straight-forward dependability is what this reel offers.
Oversized CNC machine-cut stainless steel gears define transmissions that surrender to nothing.
OMOTO has over 30 years manufacturing experience in the fishing tackle industry. Well aware of the needs of anglers they have perfected the materials and quality of their products to offer perfect and useful equipment for anglers.
OMOTO reels are well known, both in fresh water and saltwater fishing. Many well-known brands worldwide cooperate with OMOTO's excellent R&D team, which combines up-to-date concepts with years of experience .
OMOTO believes that persistence brings the best quality, and OMOTO reels will always accompany you wherever you enjoy the pleasures of fishing.
Visit omotoaustralia.com.au for more information regarding Omoto Products, Service, Warranty, Spare Parts & Repairs