Light weight, saltwater safe Fishing Gun Style plier with Line Cutter!
Achieve visibility and operability with this excellent gun style grip. It has enhanced usability that allows even the most difficult of hooks swallowed to be removed.
The handy holster allows the gun grip to be hung from the body or a tackle bag etc. The Holster can be mounted to game vests, tackle bags, tackle carriers, etc, A carabiner clip is also included for the holster.
Custom equipped with military colors: Foliage Green, Dark Earth & Black,
The Gun Pliers adopt link style mechanism equipped with a line cutter and serration slip. The plier tip is closed, until you pull the trigger. You can then hold the hook with as much force as needed. The Line cutter can cut through all nylon line thichnesses.
The Holster has a lock mechanism that ensures the Gun Plier does not come out of the holster. The holster clip is extremily secure ensuring that the holster does not come off.
The Gun Plier can only be removed when you pull the trigger.
CFRP high-strength and ultra-lightweight & rust free materials used in the construction.
Made by Daiichiseiko - A brand that manufacture premium quality products specifically for the fishing industry. Their quality is so superior, you will be blown away with how amazing their products are.
daiichiseiko specifically design their products to be incredibly robust while being light weight so that they can be attached to the body or to bags and be incredibly portable. The perfect solution to fishermen who have to carry their gear around to rocks, a beach, a pier, etc. Also great for boating & caravaning where you want to travel as light as possible!
Daiichiseiko are leaders in innovation, style, light weight portability, design & manufacture. Give them a try and you'll be sure to be back for more!!!
SPECIFICATIONS:
■ Gun Pliers Size: 180 × 85 × 16mm / Weight 93 g
■ Holster Size: 193 × 31 × 29mm / Weight 65 g
■ Material: GFRP (55% glass fiber reinforced plastic content)
■ Military Color: Fliage Green, Dark Earth, Black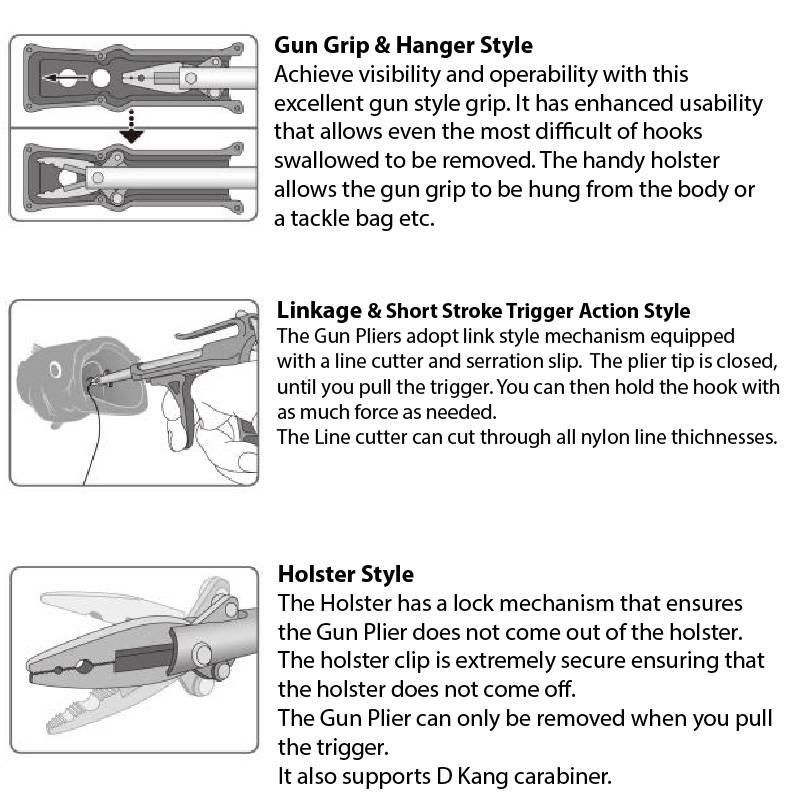 PREIVIEW
GALLERY