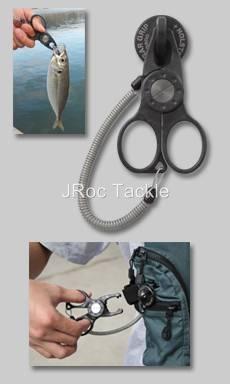 Light Salt Water Fishing Lip Gripper!
Lip Grip that employs a clip-on holster (35% carbon fiber reinforced plastic / carbon content). Holster has a built-in clip that allows for a 360° of rotation.
CFRP high-strength and ultra-lightweight & rust free materials used in the construction.
Grip Teeth are alternatly aligned to ensure that the prey does not get free. Lower jaw of fish can be firmly held.
t can be worn in a position that makes it easy to use due to the 360 ° rotation of the holstering clip.
By fixing with clips carabiner supplied, the pliers can be attached to a belt loop or bag.
Spring loaded shut to ensure a firm grip when holding prey.
The safety rope can stretch up to 120cm. This ensures that you have your grips close at hand when needed and keeping them safe from loosing them.
Made by Daiichisieko - A brand that manufacture premium quality products specifically for the fishing industry. Their quality is so superior, you will be blown away with how amazing their products are.
Daiichiseiko are leaders in inovation, style, light weight portability, design & manufacture. Give them a try and you'll be sure to be back for more!!!
SPECIFICATIONS:
■ Gar Grip Nano Size: 94 × 57 × 16mm
■ Holster Size: 34 × 36 mm
■ Weight: 80g
PREIVIEW
GALLERY