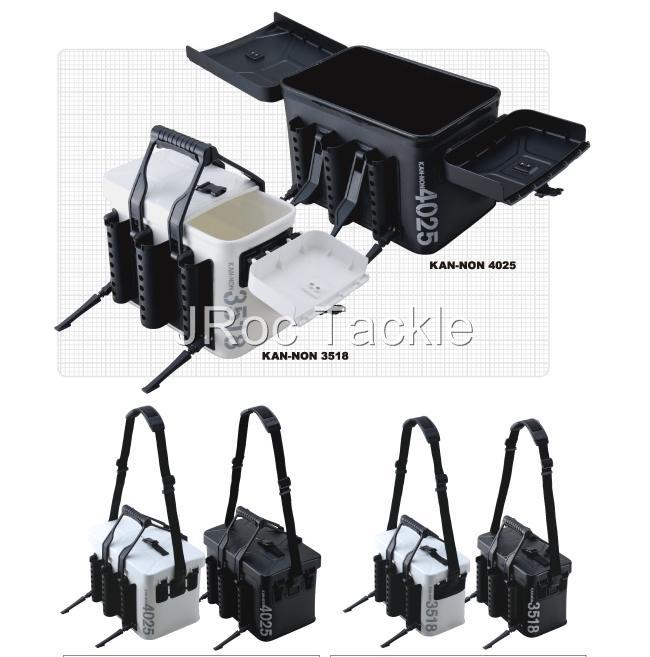 Get ready for the land based fishing revolution with Daiichiseiko Fishing Gear.
LIGHT WEIGHT - PORTABLE - SUPREME QUALITY - STRONG - ROBUST- ERGONOMIC - ideal for land based fisherman who need to travel as light as possible.
Made by Daiichiseiko - A brand that manufacture premium quality products specifically for the fishing industry. Their quality is so superior you will be blown away with how amazing their products are.
Daiichiseiko specifically design their products to be incredibly robust while being light weight so that they can be attached to the body or to bags and be incredibly portable. The perfect solution for land based fishermen who have to carry their gear around while getting to fishing spots such as rocks, beaches, a pier, etc. Also great for boating & caravanning where you want to travel as light as possible!
Daiichiseiko are from Japan where the finest fishing products are sourced. Daiichiseiko are a large company and one of the best fishing manufacturers in Japan and even the world, Daiichiseiko are leaders in innovation, style, light weight portability, design & manufacture. Give them a try and you'll be sure to be back for more!!!
INFORMATION:
The Daiichiseiko Tackle Carrier KAN-NON 3518 is a multifunctional, premium fishing tackle box, which will accommodate your equipment with minimal weight. With the help of additional accessories the carrier is easily upgradeable to give additional space for your fishing gear. Each element of the design and the materials from which they are made are selected with the utmost care to guarantee years of trouble free service.
The body of the KAN-NON Tackle Carrier is made from Heavy Duty flexible, semi-hard EVA with SAS Frame Construction & with a solid hard top lid & accessories = high-strength and ultra-lightweight, waterproof & fully washable. It's so fantastic, that with clever use of material used, it means you can even put your fishing catch into the carrier, ensuring that no mess ends up in your boat, caravan, or car! And don't be afraid to put your wet waders into it, because it can accommodate those too!!!
The revolutionary use of the materials used in its construction means that not only do you get light weight portability but it's also incredibly strong & robust, rust free & waterproof and totally washable. The high-quality, flexible and durable Waterproof EVA body is able to withstand various weather conditions and a variety of physical activities faced by fishing gear during fishing. While the super tough solid hard cover KAN-NON biraki Lid (meaning double doors that open both to the left & right) are 2 different sizes and interchangeable with Velcro fasteners, so you can have the larger door open on either the left or right! The Velcro fasteners mean that you'll never have hinges that rust, break or crack and can be removed all together for easy cleaning!
The spacious (size 350x180x250mm) interior is enough to transport a huge amount of equipment.
You can use the internal space of the Tackle Carrier on its own or compartmentalize it by teaming it up with a the Tackle Cubes also sold at JRoc Tackle. Whether your using it to store your latest catch or filling it up with fishing paraphernalia we have the perfect size carrier for you!!! What ever you choose, their light weight portability and strength will revolutionize the way you go fishing.
You can perfectly fit the Tackle Cubes 1611 & 1622 into the KAN-NON Tackle Carrier 3518 & Tackle cubes 1812 & 1824 into the KAN-NON Tackle Carrier 4025 (Tackle Cubes also sold at JRoc Tackle - sold separately). That way you can organize, separate and store your items in different compartments making the tackle carrier very versatile. With the use of the tackle cubes, the space is divided into several sealed compartments. You can store bait in one, with your reels right next to it in another without contamination. With the clear cover lid on the Tackle cubes you can quickly identify the contents and the super strong carry handle means that they can be accessed, carried and moved with ease!
On the outside of the KAN-NON Tackle Carrier are 3 EVA ROD STANDS that can be used to hold fishing equipment including rods, landing net, auto-king gaffs and more. 2 racks have a diameter of 31mm and 1 a diameter 45mm.
To stabilize the structure when on the ground, the KAN-NON Tackle Carriers have 2 folding legs that are designed to easily compensate for the weight of rods, nets etc. in the ROD RACKS. To fix the legs into place, firmly screw the locking pin on the leg.
The KAN-NON Tackle carriers come equipped with 2 choices of carrying styles. You can carry it with either of the 2 options. Use the 180cm shoulder strap to carry it on your shoulder or use the carry handle to carry it in your hand. The ingenious folding carry handle locks into place and is offset 28mm to the rod rack side, to counter balance the weight of the rod racks when full, while carrying it. This makes the carrier perfectly balanced at all times. Genius!!!!!
Also available as an optional extra is the Daiichiseiko Tackle Station (also sold at JRoc Tackle). This versatile fishing Tray for the Tackle Carriers fitted with EVA Rodracks is invaluable. Never need to crouch down on the ground again!!!! Clip it in to the rodrack and in seconds you have a tray at hand ready to use. Whether your cutting bait, putting bait on your rod, rigging your line, or simply want a place to rest your rod and hang your fishing tools, it's a must have!!!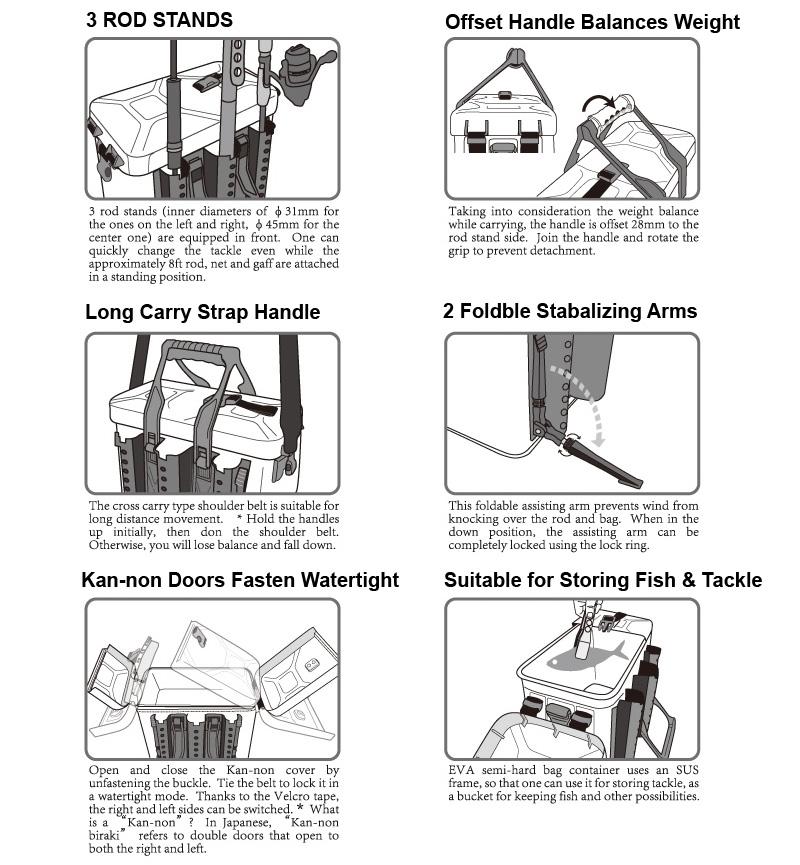 SPECIFICATIONS:
■ KAN-NON Tackle Carrier Bag 3518 Size: 350 × 185 × 250 mm, Weight: 1650g
■ KAN-NON Tackle Carrier Bag 4025 Size: 400 × 250 × 260 mm, Weight: 2000g
■ Rod Stand Radius: 2 x 31mm diameter & 1 x 41mm diameter
■ Shoulder Belt Length: 180cm
■ Available colours: Both Sizes available in Black & White Versions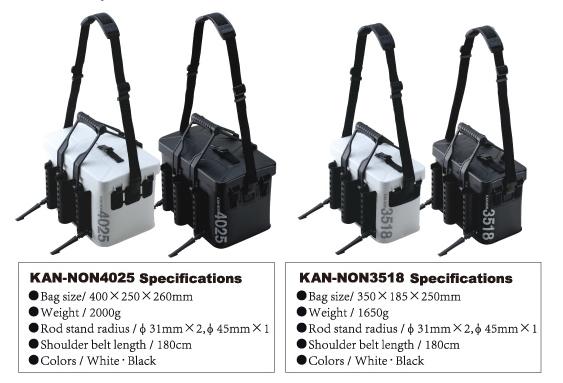 PREVIEW
GALLERY