THIS LISTING IS FOR ALL 4 WATER ACTIVATED FLASHING LED LIGHT FISHING ATTRACTION INDICATOR BAIT LIGHTS
You will receive 1 of EACH colour - RED, BLUE, GREEN, WHITE
These Water Activated Fish Attraction Indicator FLASHING LED LIGHTS are irresistable to fish & Squids.
They are designed to eliminate the use of chemical lights used when fishing to attract fish. The brightly flashing LED lighst will improve bait visibility. They will attract and trigger the hunting instinct in fish. The light spectrum produced is irresistable to fish. These lights have 5-8 times higher illuminating power than chemical light sticks.
The Flashing LED Fishing Bait Light automatically FLASHES when emersed in water. These lights are water activated - no need for switches! The LED light flashes alternatly from both ends.
A self contained non replaceable lithium battery provides OVER 200 hours of use at DEPTHS of 300 Metres / 985ft.
The indicator sensor ensures that the Flashing LED Light will automatically stop glowing if the 2 metal sensors on the base of the light, loose full contact with the water, a great power saving feature.
These bait lights can be used by themselves as a small jig, although they are best used in conjunction with other baits, spinners, spoons, squid skirts, jigs, bait etc. They will help to improve & enhance the performance of your other favourite items of fishing tackle. You can combine our bait lights with other fishing tackle in a number of ways. At the end of this listing are pictures depicting examples & ideas of how you can make your jigs using our fish attraction indicator LED lights with other items of fishing tackle.
They are strong, dureable & made from high quality materials that are made to last!
These are the ideal choice for day or night fishing enthusiasts and can be used in Salt or Fresh water. They are very useful for catching a variety of freshwater and saltwater game fish, such as catfish, walleye, crappie, bass, red snapper to name a few. Submerged lighting for night fishing can be used to catch both saltwater & freshwater species of fish that are predominately night feeders. These lights can give you a significant edge so think seriously about using them on your next fishing trip!
This technology is truly amazing. These are a fabulous addition to any tackle box. Revolutionize the way you fish & let technology give you the upper edge.
These lights are used to attach to your line, to attract fishes to your lures, they work amazingly well!!!
Why buy from an overseas seller that sends you 1 random colour when you can buy from us and get all 4 colours guaranteed!!!!!
TECHNICAL SPECIFICATIONS
- Rated for a Depth of 300 metres / 985ft
- Diameter : 1/2 " / 1.2cm
- Length : 2.4" / 6cm
- Weight : 0.30oz / 8g
- 2 alternating FLASHING LED Lights (one at either end)
- Light Duration 200 hours
- Includes 1 of each Flashing LED Colour : RED, BLUE, GREEN, WHITE
- 100% Brand New & High Quality
- Freshwater & Saltwater fishing
PREVIEW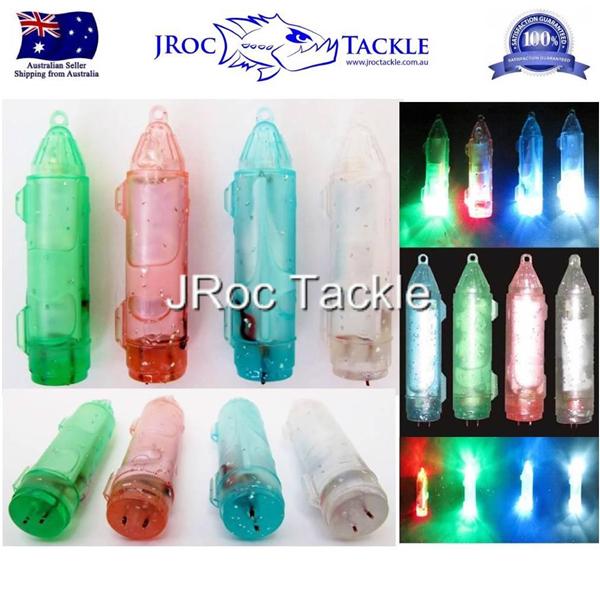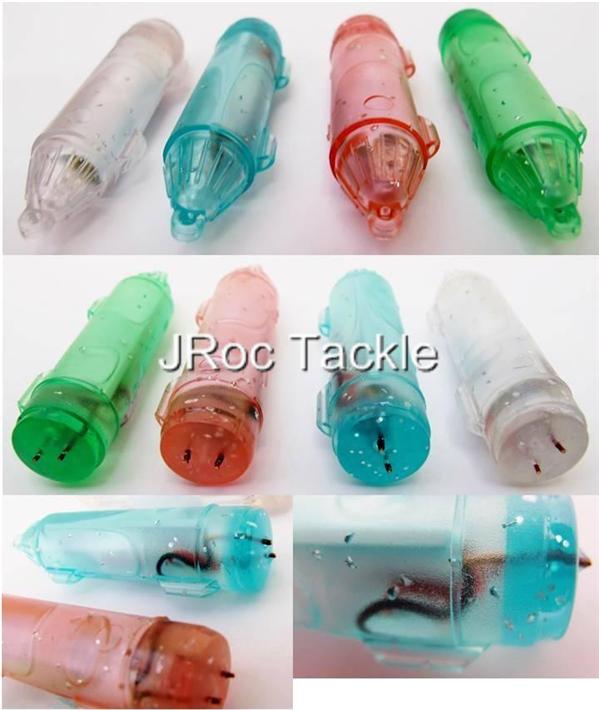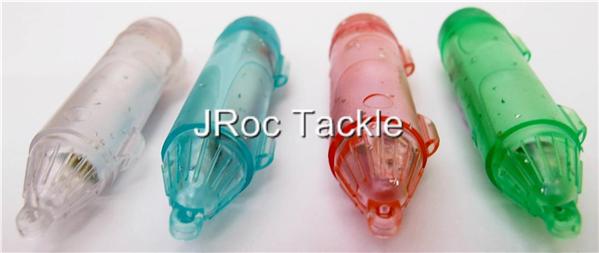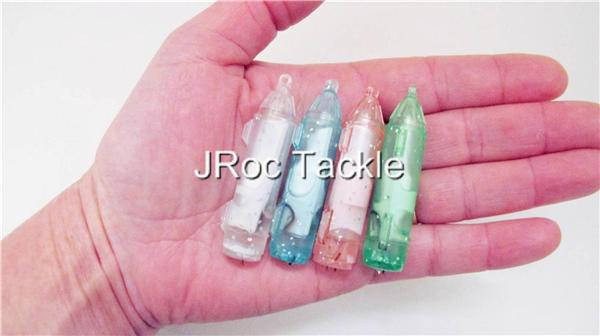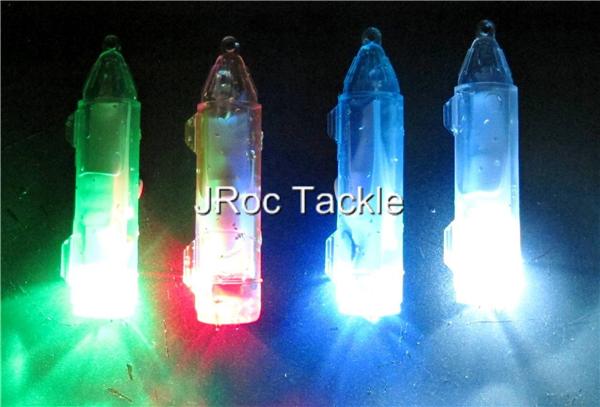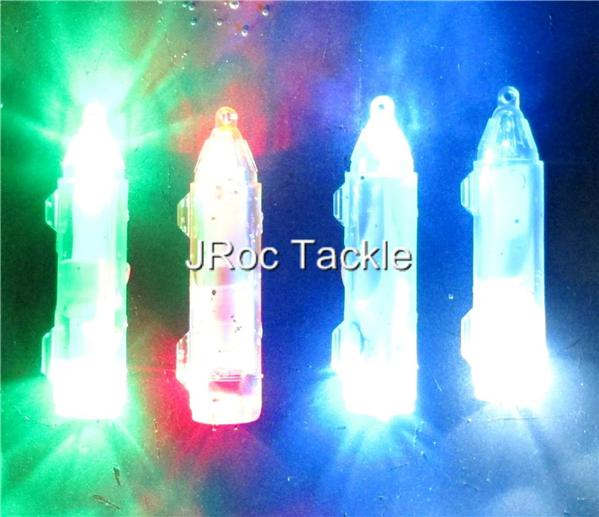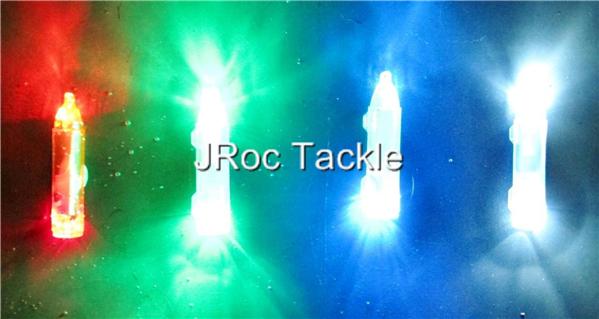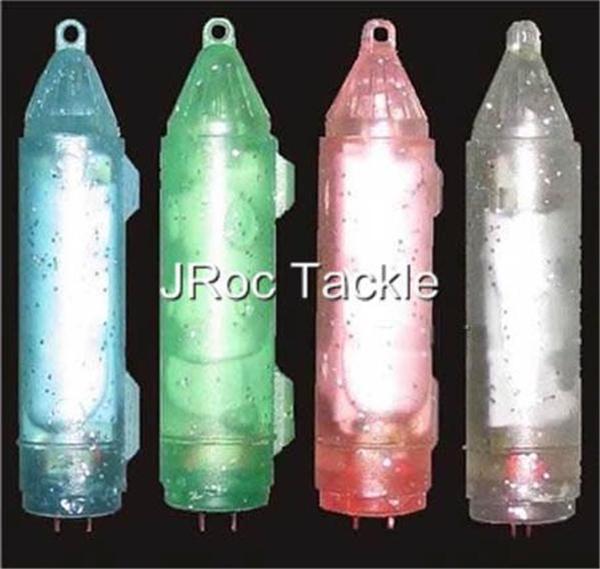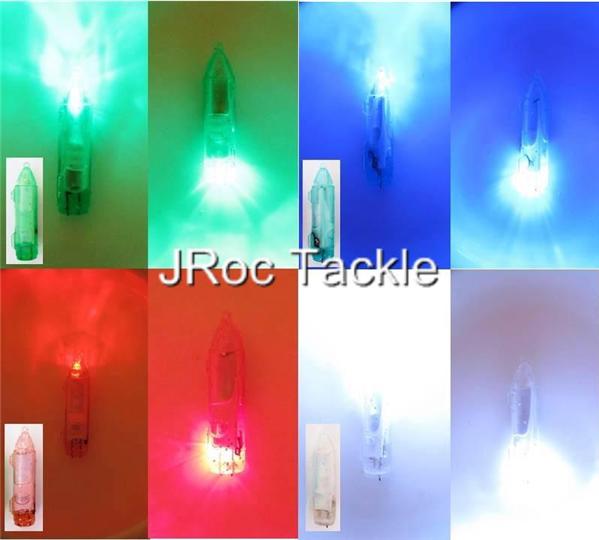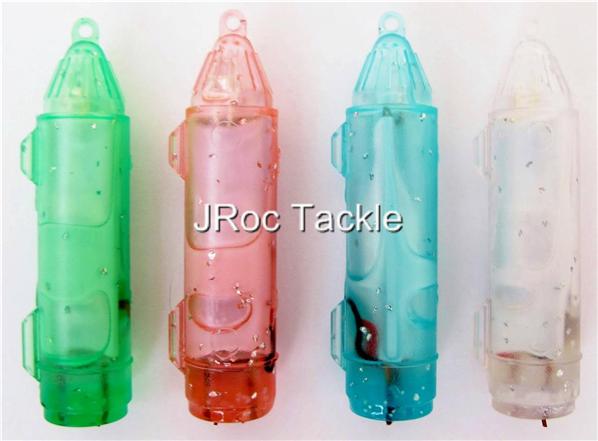 EXAMPLE RIGGING
The following pictures are some examples of how these FISH ATTRACTION INDICATOR LED LIGHTS can be rigged up with other tackle items that you would fish with.
The accessories are not included in the listing.
You can insert the LED LIGHT into soft squid or octopus skirt lures to create a lighted squid or lighted octopus lure to increase your probability of catching more fish, squid & octopus!!!!!!